Fur Trade Era Cooking
Typical Fur Trade Food
See also:
Dutch Oven Cooking
Dry Fruits and Vegetables
Dry Meats
To aid you in Fur Trade Era Cooking, we have provided the following information: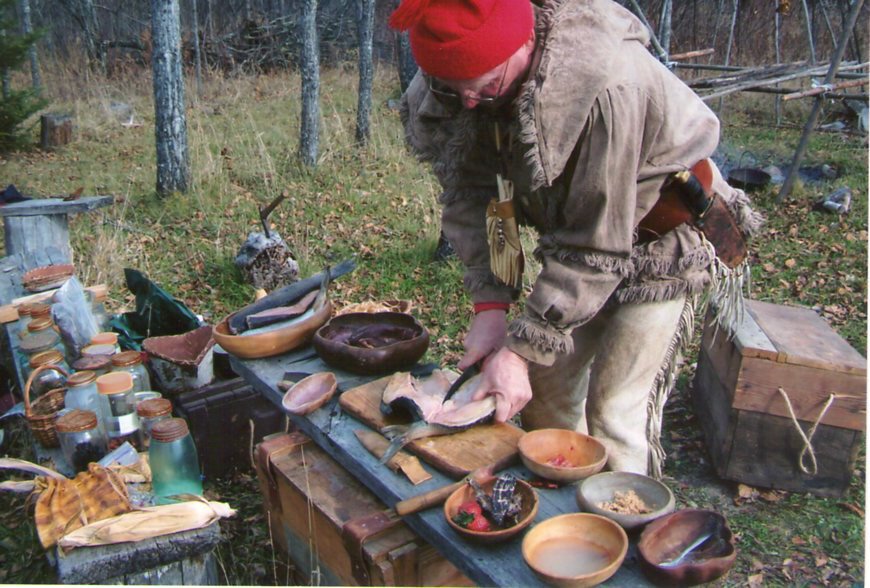 Food was most likely a major concern for the fur traders. Journals and records list many problems getting sufficient food. The fur traders traveling from Montreal were actually called by a name (porkeaters), that described the bland food they relied on during their long journey. Meals for the fur traders were a highlight of rendezvous.

Food or the lack of it, was a basic survival issue for fur traders. During the trip to rendezvous food was generally plain and monotonous. The focus was on making progress. Even though they might be traveling through areas rich in game and wild foods, there wasn't time to stop and take advantage of the local resources. Only rendezvous offered the chance to eat relatively well with some certainty. Today's rendezvous often have the same flair and variety.

The fur traders of the east ate a diet of corn mush, pea soup, and pork fat. But buffalo was common for the trader of the interior. Fur posts on the northern plains hunted large amounts of buffalo with the help of the Indians. Tons of pemmican were made from the buffalo meat.

Pemmican is a high energy food developed by the Indians. It can be transported easily and lasts for many months. Although most pemmican was made from buffalo occasionally moose and caribou were used. After the meat was dried, it was pounded into a fine texture. Then it was mixed with animal fat and some time with berries. This created a high calorie, high nutrition food.

Pemmican is still considered a "survival" food for those who travel into wilderness areas. However, modern tastes would probably consider it less than great and of questionable value in a "healthy diet". If you would like to try making your own pemmican, we have some recipes under the dried food links above. Let us know how you liked it.

During the fur trade era food drying was essential to preserve food for the long winter. Food was usually dried by laying it out on a framework of sticks and cloth in the sun. On a warm, but dry day, it would dry fast enough to avoid spoiling. Some types of foods might need some additional preparation before drying.

It is relatively easy to dry meat. You can use a food dryer available at many stores that sell small appliances. You can also dry it in your home oven by setting the oven for the lowest possible setting and leaving the door open a bit. It can be much easier if you make a simple wooden frame for the screening and set the whole frame on the oven rack.