Mountain Man Rendezvous Clothing Guide
Get Ready for the First Rendezvous!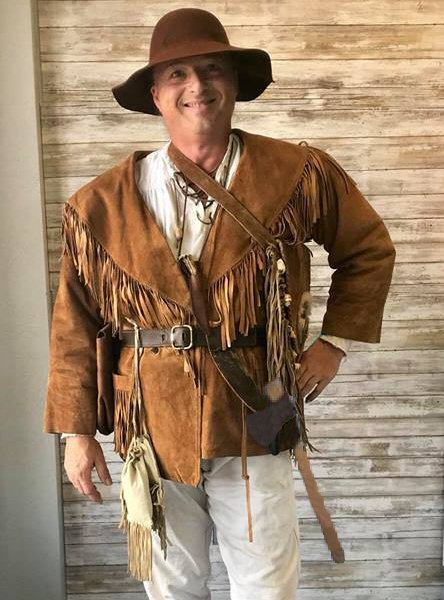 The best thing to do for your first rendezvous is to keep it simple. As you more involved in the historical reenacting hobby, you can increasingly build your wardrobe to match whatever time period or style you select.
It's easy to run out and buy whatever clothing that may suit your needs and tastes. It is even easier if you make your purchases online. When getting started in Buckskinning and Mountain Man reenactment for rendezvous, Expensive buckskin shirts, pants and moccasins may all look great, but you may regret doing a lot expensive shopping once you get a better idea of what you want to do. Better yet, put some thought into the period you wish to portray (your persona) and do as much research as possible before advancing to high end clothing and accessories.
Instead of buying a lot of expensive clothing for your first Rendezvous, just buy the basics. Then look at other fellow buck skinners at rendezvous. Don't be overwhelmed when you see all of the great clothing and accessories that your new friends have. Keep in mind that most of them have had many years to collect their mountain man clothing and equipment.
Mountain Man Clothing & Accessories for the Beginner:
Simple calico shirt or unbleached cotton shirt for men.
A simple calico dress and apron for women.
Fall-front/drop-front pants. Some people even suggest simple painters pants.
A leather belt with a simple brass buckle.
Inexpensive moccasins without rubber soles. A smart shopper may even be able to find something at the local department stores to fit this need.
There will most likely be other items that would be good to have depending on the weather that is expected like hats and gloves, but it is still best to start simply. Ask questions when at Rendezvous that looks good to you. You will find that buckskinners are friendly and will be happy to help out beginners get started in the Mountain Man reenactment hobby. Some may even talk and talk and talk...
Rendezvous Clothing & Accessories Available Online.
Over the years, we have formed good relationships with crafts people from across the country that produce quality, authentic clothing, accessories and craft items. We have provided a listing of links that you may find useful here on our own website at Helpful Links.>